Artificial intelligence is taking over every industry. The advancement in the machine learning field has already contributed to major changes. Some of them bring outstanding results in speeding up processes of quality assurance and changing online customer service. And some raise tons of controversies around machines replacing human workers.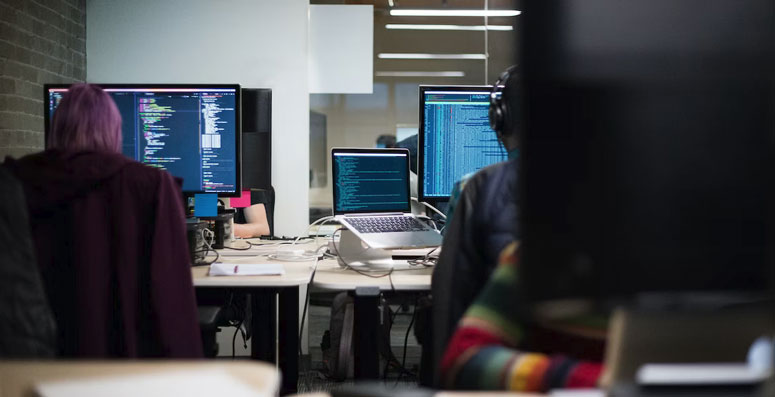 No matter where you stand in the AI argument, you have to admit its significant benefits. Especially when it comes to computer software and operating systems. From the development stage to enhancing user experience, AI is changing the way we interact with our devices altogether. And here are six ways how machine learning technology does it.
More Secure Systems
Security is one of the major software issues. Since it collects personal and oftentimes sensitive data, you need to ensure timely recognition of any breaches. Imagine ordering from an custom term paper writing service and learning that your credit card information got leaked. Luckily, it would never happen with trusty businesses since they use up-to-date security encryptions.
With AI-powered systems, it is possible to prevent malware or any suspicious behavior in seconds. Moreover, artificial intelligence can help in solving these issues as well. Since these tools are capable of processing a tremendous amount of information, they can recognize a suspicious pattern before the breach happens.
So, there is enough time to block the malware or any threat from damaging your data. As a result, you get more effective security systems for your software. AI and its capability of adapting and adopting new information are game changers for software protection.
Server Optimization
Another AI-generated change is server optimization. Servers need to process tons of information and queries based on users' requests. Before machine learning tools, it was likely servers would slow down significantly or even crash when overloaded. But with embedded AI tools, it's possible to define and distribute the needed resources for better performance.
It is important to properly allocate consumed resources to the apps. And AI can do just that with an automated process of resource allocation. So, the server can run more efficiently and all related processes can be optimized. These advancements are especially important for businesses that rely on apps' efficiency. But it also improves overall user experience.
Automation in Software Deployment
The software deployment process is a significant task to tackle. For a smoothly operating application, it's vital to install necessary updates and upgrades for the newer versions. Notably, AI can help here immensely with automated deployment. It analyzes all potential struggles with upgrades and solutions to them.
Thus, developers can focus on more creative and analytical parts of the deployment process. Rather than spending hours upon hours evaluating all possible scenarios for potential bottlenecks. So, AI helps to accelerate the necessary deployment and protect an app from jeopardy with successful upgrading.
Contextual Card System
One of the most recognizable changes for the OS is the contextual card system. As the name suggests, the interface features not just folders but cards with dynamic data. You can already see it in the latest Windows version. If you press the "Start" button in the bottom left corner, a panel will pop up with dynamic cards like "News" and "Email".
So, you can see the preview of your news page and inbox. And if you have an unread message from the best dissertation writing services, you'll see it in the "Email" card on your PC. Moreover, thanks to AI-generated OS, these cards will be ranked by importance based on the pattern of historical data. And that applies to the major changes for apps as you know them.
The app will probably turn into a card with a task that stores all information on documents, participants, and time. The card is going to be tied to the user's intention and can open a chat or send automated alerts depending on the task.
User Modeling
As it was mentioned previously, user data is key for future OS modeling. Thanks to AI that collects and processes your data, the OS can transform into a multi-tool in a way. Customized to your needs and ever adaptable, the operating system will use your data to solve your tasks and issues.
User modeling is based on APIs that basically can classify your data and respond to possible issues. These APIs also allow feedback from a user. Meaning that the OS can explain a certain suggestion based on your collected data. And you have a choice to accept or deny it. So, AI provides a more dynamic user experience.
Extensible Semantics
The current OS deals with app-specific semantics. The only native framework for an OS is recognizing time and space, while other apps deal with specific issues like finding a location with navigation. With AI, OS would have internal knowledge that prompts it to involve several apps to solve a particular inquiry.
Thus, when you want to figure out where to go for dinner, your OS can devise a plan with the assistance of the relevant apps. And to do that it has to be powered with an extensible semantics framework to be able to learn and adapt with the help of developers. Thus, the whole experience of using the OS on any of your devices will be completely different.
Of course, using and implementing extensive semantics for this new type of OS will be a challenge. The AI tools provide as many obstacles as they do advantages. But at the end of the day, an AI-powered operating system is inevitable.
Wrapping Up
That's about it. It is no secret that AI-generated tools bring tons of changes to software and operating systems. For one, it helps to create more secure systems by not only detecting possible malware but preventing its entry. AI also brings benefits to server optimization with automated resource allocation processes. Plus, machine learning automation is useful for deployment, helping developers upgrade software more efficiently. All in all, AI has a tremendous effect on the view and data processing of OS. Thanks to artificial intelligence, the OS will look like a contextual card system and heavily rely on user modeling and extensible semantics.